Flowerful Summer Fun
SAVE >30% on SHIPPING / Complimentary Local Delivery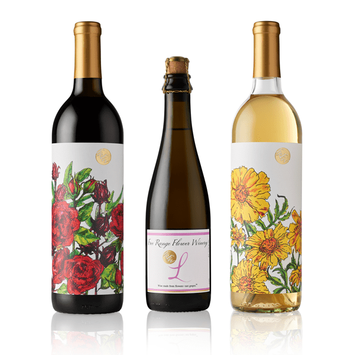 Limited Edition
SAVE >30% with LOW FLAT-RATE SHIPPING (14.99)
COMPLIMENTARY LOCAL DELIVERY or PICK UP in the tasting room
5% SAVINGS v. individual bottle prices
What you get with your Flowerful Summer Fun gift set:
(1) Rose Petal 750mL / 14% abv bottle
• An enchanting True Rose Wine™, Rose Petal is handcrafted in small batches (just like big sis RoseHybiscus) from locally sourced, organically farmed rose and hibiscus flowers -- not grapes.
• Amber rouge beauty in the glass and the scent of wild roses, strawberry, and autumn leaves on the nose.
• Dry, robust, and well-balanced with earthy, white pepper overtones and a silky finish.
• Pairs well with lamb, aged cheeses, savory mushrooms and rich Mediterranean dishes. Best served slightly chilled to start, then chill or not to taste.
(1) Marigold 750mL / 12% abv bottle
GRAPES & BEYOND FEATURED WINE | TEXSOM Conference 2021
• "Simply heavenly!" (Edible East Bay)
• "Mouth-watering Marigold showed white chocolate, a sage note and smelled of honeycomb" (Wine Spectator)
• "Like liquid sun... reminiscent of an aged chardonnay" (Mercury News)
(1) Sparkling Lavender 375mL / 13.5% #metime bottle
BEST SUSTAINABLE WINE | Cosmopolitan Wine Awards 2021
• "Gourmet-level gift!" (Michelin Guide)
• "Assertively floral... complex botanical profile... anise, juniper and the bittersweet flavor of lemon rind, all amplified by bubbly carbonation... and that resounding, refreshing bitterness." (San Francisco Chronicle)
• "Full sensory experience with flowers... savory and herbal." (Wine Enthusiast)
Product Reviews