Sparkling Red Clover
375mL. btl, 11% abv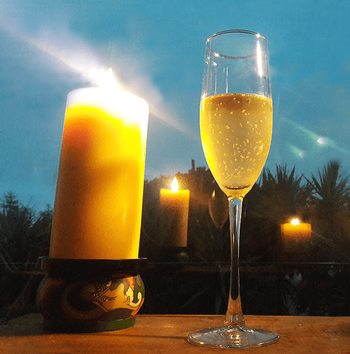 First edition. Very limited quantities. World-class. Found nowhere else on the planet.
Join the Flower Power Wine Club for guaranteed allocations.
Or taste in the Tasting Room.
Handcrafted from organic red clover flowers, Sparkling Red Clover is a truly magical way to toast the end of summer and welcome the autumn season.
The color in the glass is a luminescent gold that pairs well with a breezy early evening, mood-setting candles, and a just-after-sunset cerulean sky.
The aroma is a whole vibe: notes of crisp peachy pear, perhaps strawberry and cinnamon, maybe a hint of the fruit-filling scent you might find in a caramel chocolate... it's a journey!
The perfect velvety bubbles and light, off-dry, refreshing flavor at once evoke a buoyant feeling, while the broader taste profile starts with young fruit that evolves into the distinctive spice of clover with a slightly bitter back-end balanced with notes of pineapple.
Product Reviews